The essence of brand Foal is epitomized by the ambitious spirit of a Foal. The brand stands for innovation, originality and luxury.
Foal offers a perfect blend of Indian sensibilities with contemporary interpretations in design and craftsmanship. Our product offerings include travel bags, laptop bags, purses, backpacks and accessories for both men and women.
Every Foal bag is handcrafted and is an expression of elegance and individuality.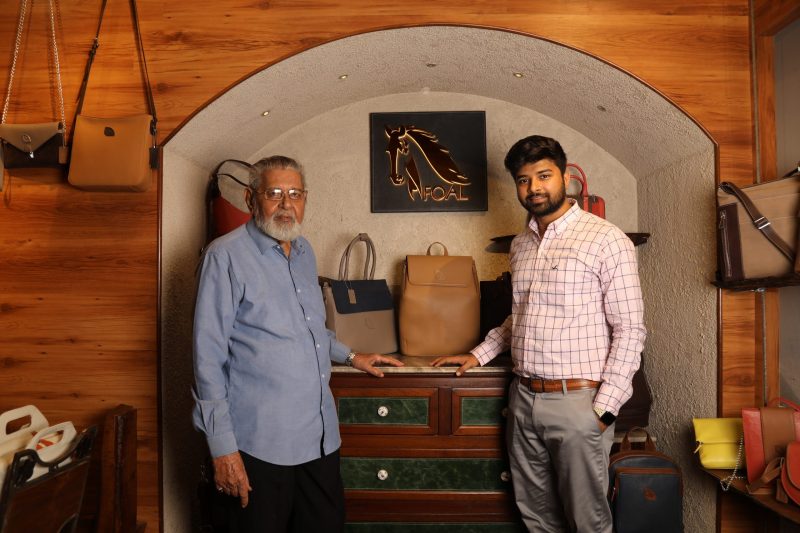 Our Inception
Mtask leather craft's 40+ years of leather manufacturing experience is the foundation stone for FOAL'S handcrafted leather bags. The name FOAL itself is given keeping in mind that it is the vision of an experienced and successful Mtask Leather craft, just like a new born baby of a Stallion and Mare.
Founded in 2014, FOAL uses the finest leather sourced from the best tanneries in the world to create bags that have a timeless elegance and are long-lasting.
Our Legacy
Every brand must have an intrinsic element that defines it, a thread that leads back to its origin. Foal's origin goes back to the day since a grandfather began his journey in the world of leather crafts. He had never designed a handbag in his life but his craft took a new shape when his grandson came into the picture. His love for style and creative flair took the form of bags that would keep the old charm alive while being refreshing and new at the same time.
A Foal bag defines innovation. We are a new leather bag brand with a generation of experience in leather crafts. Our experience and vision are consistent as is our commitment to quality. The origin of our thread is our foundation and will remain with us forever. Our family-run manufacturing unit is a place where we uphold the values laid by our grandfather while the new generation takes over.
You can visit our manufacturing unit on any given day, see and experience the craft of making bags from leather and losing yourself in that fresh leather fragrance. See us working on products like totes, backpacks, handbags, sling bags, wallets and more. And see the colorful leathers sourced from different places. And mainly, see the many faces of our craftsmen working with their hands; product, pride and satisfaction everywhere.
Founders' Note
"Do what you love, love what you do.
Nothing describes my journey into becoming a designer better than this. With FOAL, I'm not only expanding my legacy but also passionately working towards providing high-quality handcrafted leather goods at a competitive price. Being a perfectionist, all the products are made under my careful supervision. I learned about the trade in my early years from my grandfather. In 2018, I received a Diploma in bag pattern making and prototyping from Arsutoria School, Milan Italy. From making prototypes in groups, to cutting patterns with my own hands, to an industrial visit to Bottega Veneta; the course gave me a global approach of the art of designing leather bags.
Ever since, I have tried to combine my learnings from school with the knowledge I derived from my growing years to design products that are high on style, utility and quality. Each bag is a classic and will last you a lifetime!"

– Mustafa Khozem